News & Media
Stay tuned for eSUN with 21 innovative products at Formnext 2019
2019-11-12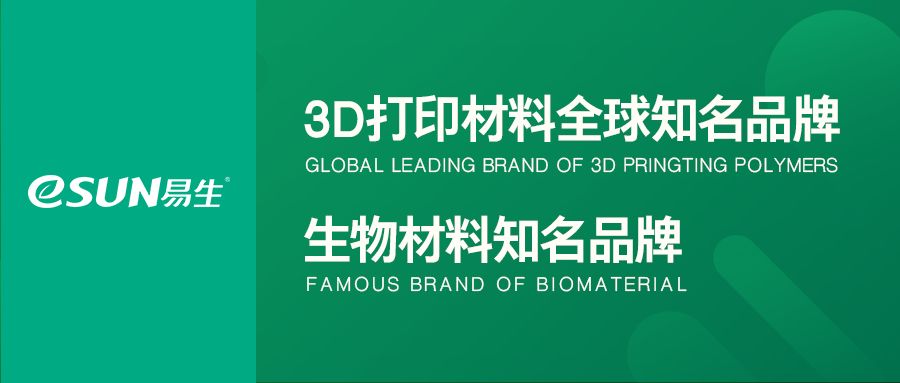 The German Formnext exhibition is a milestone in the global additive manufacturing and modern industrial production. Each session will showcase the diversified solutions of the world's latest material manufacturing. From the software creative modeling, digitization, pre-processing, to the simple processing of surface treatment, from product conception to industrial mass production, the entire process of additive manufacturing, can be found here.
On November 19, 2019, Formnext 2019 will be grandly opened at the Frankfurt Messe Exhibition Center! This is a great opportunity for hundreds of 3D printing companies, mold manufacturers, suppliers and partners in rapid prototyping field, and it fully focus on additive technology and the close connection between 3D printing and mold making.
eSUN has been invited to visit or participate in the 3D printing exhibition in Frankfurt from 2014 to 2018 to communicate with the domestic and foreign industry professionals to learn and promote the development of the 3D printing industry, actively paying attention to the development trend of global 3D printing and concentrating on research and development for Innovative products to meet different needs.
You don't want to miss Formnext 2019 this year! At that time, eSUN team will bring the company's FDM 3D printing filaments, new best-selling photopolymer resin, cost-effective 3D printing equipment and 3D printing innovative application solutions to the international 3D printing feast.
Exhibition name: Formnext 2019
Time: November 19-22, 2019
Exhibition Venue: Frankfurt Exhibition Center
Website: www.formnext.com
Good mechanical properties and toughness, stable printing performance, safety and environmental friendly; high transparency, low shrinkage, brighter gloss and silky texture.
Biomaterial extracted from corn grain, naturally degradable and not harmful the environment; hard, strong and rigid; good gloss and transparency; printing process is non-toxic and tasteless, not warping or edging.
eSilk-PLA Rainbow Multicolor_
Same product as eSilk-PLA with the same performance, and this material comes with a rainbow gradient, 3D printed works can be colorful without dyeing.
The material is odorless when printing, good shrinkage, no warping, strong hydrophobicity, high transparency and good gloss; it has outstanding toughness and high impact strength; good fluidity, broad processing range and can be recycled, which is very environmentally friendly.
With its high flexibility and high resilience, it greatly reduces the permanent deformation rate of the material; it also has moisture permeability and hydrolysis resistance, flexibility and hardness are higher than similar materials, with high transparency to make sure that the print size and shape are stable; the material is environmentally friendly, odorless and tasteless, and the surface of the product is easy to paint!
ePA-CF_
eSUN uses nylon as the substrate to produce ePA-CF wire with 20% carbon fiber, which is very environmentally friendly; smooth printing, high precision, good toughness and wear resistance; overcoming the problem of traditional materials that are not resistant to high temperatures.
ePC_
A non-toxic and environmentally friendly material that meets the requirements of conventional FDM printing compared to conventional PC filament. It has good high toughness and transparency, high temperature resistance, high flame retardancy with flame retardant grade of UL94-V2, which can play a certain role in fire prevention.
eASA_
Similar in structure to ABS, with excellent mechanical and physical properties; excellent weather resistance and UV resistance due to the replacement of butadiene with double bonds during polymerization; as an antistatic material with good high temperature resistance, it's also dust-proof.
This product is non-toxic, hard and tough, has good temperature resistance and creep resistance, good melt flow, and oil resistance, can maintain about 90% physical properties at low temperature minus 20 ° C, no brittle, water-proof, and has a water absorption rate of less than 1% at normal temperature, ensuring a flame retardant effect, and the surface can be polished with acetone.
It has high temperature resistance that traditional materials doesn't. The biggest feature is high flame retardancy, and it also has good chemical resistance, oil resistance, high toughness and wear resistance, making it suitable for a wide range of applications such as industrial parts, handicrafts, daily necessities, mold opening design and other fields.
The world's first bio-based resin, safe and environmentally friendly; high printing accuracy, good hardness, scratch resistance; good hydrophobicity, dry surface, not easy to absorb moisture.
Developed for prototypes requiring precision component parts, hardness up to 88D, very tough, good impact and strength, fast print speed, low shrinkage, and highly compatible with DLP printer with LED UV light source.
With the strength and performance of Standard resin, a preferred material in the process of product and product development; hardness 76D, high toughness and impact resistance; high precision, the printed model can be directly rinsed with water, no puncturing odor, safe, environmentally friendly, high surface precision, compatible with most LCD printers, is the preferred material for school and home education.
Castable resin for dental_
Developed for the dental field, with high definition, high hardness, impact resistance, and shrinkage as low as 1.88% -2.45%, is a good choice for dentists to make dental products.
Castable resin for Jewelry_
Suitable for making jewelry models with high definition and smooth surface.
Specially developed for dental mold making applications, with low viscosity formula, super hardness and minimal shrinkage, suitable for making denture base, repair model, removable dental mold , orthodontic models, etc.
A high-precision resin, the print details are clearly visible; hardness is 85D, high toughness, high temperature resistance, and heat distortion temperature is 64 ° C; can be widely used in the animation and jewelry industry, highly restored simulation characters and game characters , compatible with most LCD printers.
Belongs to urethane acrylate photopolymer resin, with high impact strength; anti-fall, more resistant to falling than the same type of products on the market; rigid resin, excellent hardness, tensile and bending mechanics, with high surface hardness, wear resistance and other advantages.
3D printing device display
A light-cured 3D printer uses a multi-lamp bead flat light source with uniform the light source energy; cost-effective, long service life and high printing speed.
This is a centerless shaft rack placement product. It has sealed protection to keep away from dust; it has a special groove for drying bag, which is convenient for recycling; it can also freely set the drying heating time and heating temperature, and detect the temperature inside the box in real time; freely set the empty disk weight and debug the gram/pound double unit weighing, and detect the remaining filament weight in real time.
3D printing innovative application
iSUN3D

customized

3D Prin
ting insole system_
eSUN has used the years of experience in 3D printing materials and equipment to develop the iSUN3D customized 3D Printing insole system for orthopedic insole industry. The entire solution has greatly improved the efficiency, capacity, quality and cost of similar systems. It uses 3D scanner to obtain the user's foot data and then print a pair of insoles that are completely suitable for the user's foot with specially soft TPU filament and iSUN3D FLX printer to fix and maintain the foot health.
Welcome to contact us via:
Email: bright@brightcn.net
Or you can leave a message at the end of the text, we will get in touch with you as soon as possible!
注明:本文章配图除项目图片均来源网络,如有侵权请及时联系。